Provides fire detection solutions for all applications including commercial properties, high-rise buildings, Industrial, Petro Chemical, Oil & Gas, Educational, Health and Government facilities. Products range from detectors , manual call point, alarm devices and
fire detection panel to web-accessed electronic fire management solutions.
Tyco Fire Products (TFP) offers more than 250 fire protection products
and over 1,200 items used in the fabrication of fire items used in the fabrication of fire protection systems, including sprinklers, nozzles, valves,
devices, CPVC, pipe fittings and hangers, and sprinkler system accessories.
We streamlined the original DV-5, creating a more powerful and efficientdeluge valve. The new DV-5A comes with a lower pressure drop and higher pressure rating of up to 300 PSI, plus a reduced footprint and i tegrated alarm port make installation and maintenance easier than ever. The difference is in the details.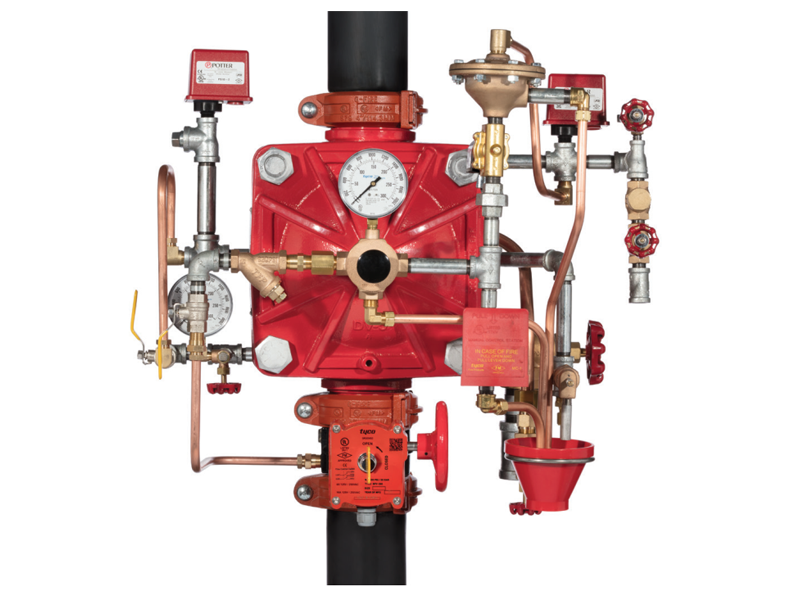 Pre-Action Valve DV-5a Automatic Water Control Valve
Preaction Type A Fire Protection Systems are characterized in normal operation as being a single interlock system wherein upon electric fire detection. The Preaction Type A Fire Protection Systems are further characterized when being in a fault detection, as in a loss of primary and back-up battery electric power, as converting to a dry pipe system. In dry system mode, opening of a sprinkler results in loss of system air pressure and opening the DV-5a Valve
The TYCO Model AV-1-300 Alarm Check Valves are divided seat ring, rubber-faced clapper, waterflow alarm check valves that are intended forruse in wet pipe (automatic sprinkler) fire protection systems. They may be installed vertically or horizontally*, and they are designed to automati cally actuate electric and/or hydraulic alarms when there is a steady flow of water into the system that is equivalent to the discharge rate of one or more sprinklers.
Model AV-1-300 Alarm Check Valve