FAST & EASY INSTALLATION TIME & COST SAVING
NO CORROSSION NO THREADING TOOLS
Flex Drop is approved by UL, FM, VDS, LPCB, SSL and our manufacturing facility in Korea has ISO 9001 approval. (VDS and LPCB approval under Tyco Fire & Building Products who is our exclusive agent for Europe)
Flex Drop is a unique stainless steel flexible hose assembly which improves the way in which sprinkler systems are designed and installed. The Flex Drop replaces the conventional method of fitting off sprinkler heads by allowing the fitter to rough in and fit off at the same time. This allows the fitter to test and charge the system with water before the ceiling grid is installed. Once the ceiling grid is in position, the Flex Drop can be reshaped into position to suit the final sprinkler head location without draining the system.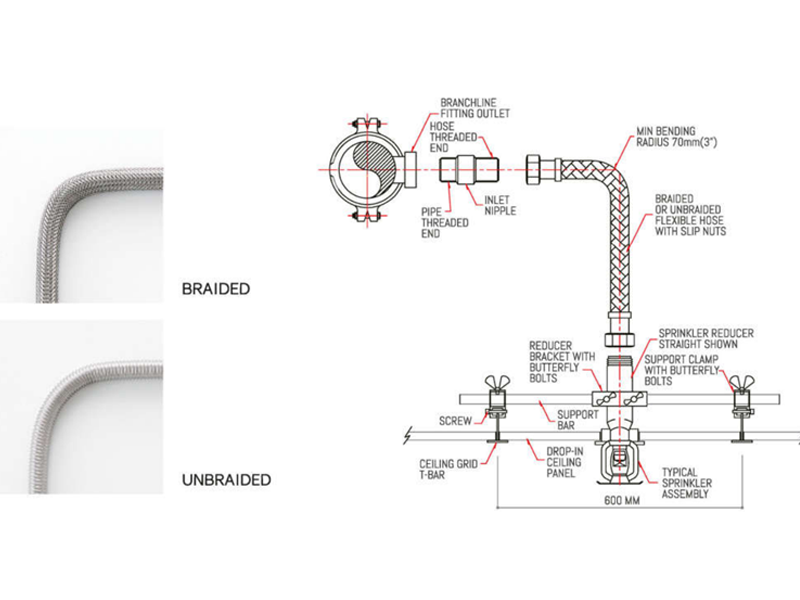 * YN25 MODEL : NON BRIADED STAINLESS STEEL CORRUGATED HOSE
* YB25 MODEL: STAINLESS STEEL BRAIDED HOSE
* FLEXDROP WITH LENGTHS MORE THAN 71 INCH (1800 MM) UP TO 100 INCH (2575 MM) IS AVAILABLE FOR
SPECIAL ORDER ONLY ( FM APPROVAL ONLY FOR HOSES LONGER THAN 6 FOOT)
* FLEXDROP WITH 28 MM DIAMETER IS AVAILABLE FOR SPECIAL ORDER ONLY. OUR 28 MM DIAMETER FLEX
DROP HAS THE BEST FRICTION LOSS VALUE.
PLESE REFER FRICTION LOSS TABLE.
Economy : Savings in labor cost, no need of equipment, machines and power tools.
Time Savings : 4 times faster compared to traditional hard pipe installation.
Safety : Less risk of water damage (once water is charged in rough-in stage, no drain is necessary). No fumes,
smokes, noise and accidents from machines.
Convenience : Eliminates work inconvenience. Easier to bend and maneuver in congested ceiling space and tem can be
re-installed in another area if the system needs to be dismantled. Adjustments can be made to ceiling levels after installation without impacting sprinklers and drops as well.